Jewel-Osco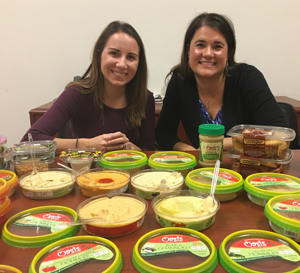 Oasis Hommus is a Jewel Osco "Dietitian's Choice" not only because of the simple ingredients and superior nutrition profile, but also because it tasted great!  We think it's just what our customers are looking for!
Melissa O'Brien, MS, RDN, LDN
Jewel-Osco |  Community Registered Dietitian
Mariano's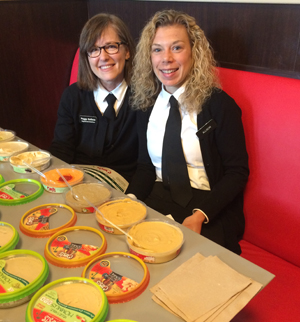 Rough day at the office – tasting all kinds of delicious Mediterranean foods from @oasishommus — Did you know: not all #hommus is created equal! Oasis hommus has one of the cleanest labels I've ever seen – just like homemade and with so many yummy flavors – I'm quite impressed! Thanks for lunch! #dietitianapproved #mymarianos
Allison Parker, MS, RD, LDN
Registered Dietitian | Mariano's
(posted on runningrdm Instagram)
Festival Foods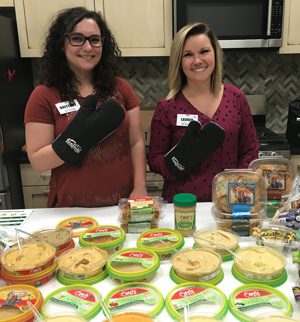 If you're not familiar with hummus, it's a creamy, tangy Mediterranean spread and dip that is rich in protein and fiber.
@brittanynikolic and I recently had the opportunity to learn the story behind @oasishommus and sample their wide variety of hummus options. They were DELICIOUS! Oasis Hummus is made with the freshest, highest quality ingredients that are 100 percent all natural and contain no additives. With a minimal ingredient list, Oasis Hummus is also #glutenfree!
Hummus makes a great snack paired with whole grain pita bread, sliced veggies or whole grain crackers. It's also a perfect addition to many #familymeals. Try adding hummus to burgers, sandwiches, pizza, deviled eggs and chicken or tuna salad.
Lauren (Lindsley) Tulig, RDN, CD
Dietitian Manager
Green Bay Regional Dietitian
Skogen's Festival Foods
(posted on FestFoods Instagram)
Huntington Medical Foundation
To whom it may concern,
I am writing this letter in support of Oasis Mediterranean Cuisine. After 20 years of successful business in Ohio, Michigan, and other Midwest states, the company is currently seeking to bring their unique blend of healthy Mediterranean foods to Los Angeles and southern California. I am writing this letter in strong support of the company's vision for expansion.
I have served as the Executive Director of Center for Human Nutrition at Huntington Hospital since 2008, and I was previously the chief of Clinical Nutrition services at David Geffen School of Medicine at UCLA. I have over 15 years of experience in treating patient with various metabolic diseases ranging from diabetes, high cholesterol, to heart disease. Over the years, we have routinely incorporated use of Mediterranean foods in our patient care with high success.
Multiple studies have repeatedly shown the health benefits of Mediterranean foods in the treatment of patients with cholesterol problems, heart disease, and even for secondary prevention of cancer. As published in a large European study in the New England Journal of Medicine following more than 22,000 people living in Greece, researchers found that the closer people followed the Mediterranean diet, the less likely they were to die from either heart disease or cancer. Besides foods that are high in the good fats (monounsaturated and polyunsaturated fats), Mediterranean foods are low in saturated fats and trans fats. Oasis Mediterranean Cuisine has carried it one step further. Through a unique patented technology incorporating fat separation, the company has created a whole line of foods that are either very low fat, or even non-fat. Our clients enjoy Mediterranean foods tremendously, while at the same time achieve improvement in their blood metabolic profile.
While there are restaurants locally which sell serves Mediterranean cuisine, very few offer prepackaged entrees incorporating Mediterranean foods for clients looking to enjoy these foods at home. At our Center and satellite offices, where we catered to more over 6,500 clients, there is a high demand for prepackaged food which offers client convenience, cost effectiveness, and more importantly, healthy alternatively to typical fast foods. We be- lieve there is a tremendous opportunity and market for Oasis to expand its unique line of pre-packaged foods. This can be done not only in our clinic, but more broadly in community markets, grocers, gyms, and even for catering.
Please feel free to contact me if you may have any questions. Oasis Mediterranean Cuisine has our support with- out reservation.
Kurt Hong, M.D. Ph. D.
Executive Director, Center for Human Nutrition
Huntington Medical Foundation
Chief, Preventive Health and Nutrition Services
Huntington Memorial Hospital