Open Your Eyes to the Power of Sesame Seeds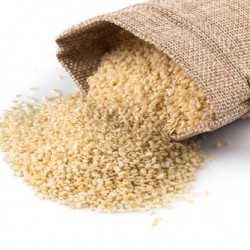 Tiny Seed, Huge Health Benefits!
We're thrilled to be introducing Open Sesame Spread, the first pure sesame spread on the market today.Open Sesame Spread takes advantage of the highly sought after health benefits of sesame seeds. The small but powerful sesame seed is a rich source of easily absorbed calcium, protein, fiber, iron and other essential vitamins. Also noted for its exceptionally high magnesium content, sesame seeds help human bones absorb calcium improving bone health, which is important to building muscle. In fact, recent research has focused on the unique sesame lignans found in abundance in the seeds, which have shown great potential in improving digestion; reducing blood lipid levels, blood pressure and inflammation; boosting the body's antioxidant capacity; and enhancing vitamin E bioavailability. A wealth of evidence also reveals the power contained within these tiny seeds in helping manage some of today's prevalent health disorders, including cancer, and gives us plenty of reasons to add them to our daily dietThe idea of the Open Sesame Spread has been years in the making and is a natural extension to our current offerings. Having spent more than a quarter century perfecting our own tahini and hommus, we're poised to lead the way in producing the first complete line of high quality sesame seed products. Look for more product announcements soon.
---