Oasis Bruschetta: New Look, Same Great Taste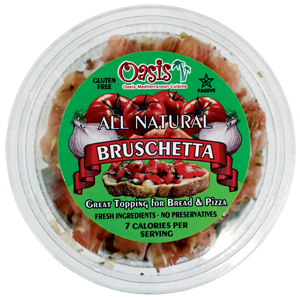 Oasis is proud to unveil the new package design of our industry favorite All Natural Bruschetta.  Made from a traditional authentic recipe that includes fresh tomatoes and garlic and other simple ingredients, Oasis Bruschetta not only tastes delicious but also is gluten-free, Star-K Kosher approved, vegan friendly and low in sodium.  And because Oasis Bruschetta is All Natural, there are absolutely no additives or preservatives.
This classic Italian appetizer is perfect as a dip or topping for bread or pizza, garnish for meats or for use in pasta sauces and salad dressings.  With only 98 calories for the entire 14 oz. container (that's 7 calories per serving), you can enjoy Oasis All Natural Bruschetta until your heart's content.
---